Welcome to Frosty's Page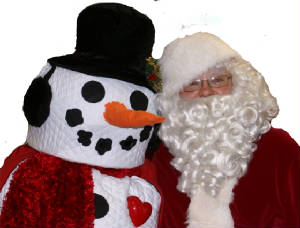 Hello From Frosty and Friends!

Frosty has been very busy with appearances all over Minnesota
If you would like to have Frosty come to your event, see
the information below to contact him.
| | |
| --- | --- |
| | Frosty's Day Off- Ever wonder what a hardworking snowman does for fun- Click on his video to find out ! |
Frosty's is Scheduling Visits Now!
If you would like to have Frosty be a guest at your next special event, leave a message for his friend Kelly at Experience Shows. You can email us at the link listed below.
Frosty dances, waves, blows kisses and even Ice Skates-- but he doesn't speak!
Click Here to Contact Frosty Calendar
Frosty needs:
Preparation Room for indoor events
A Host/Helper to introduce him to your guests
Friendly, excited kids and adults to dance with
Directions to your event 1 day prior to event
Private parking area for arrival
Frosty's Appearances last 45 minutes
If your event lasts longer, he will make
30 minute appearances with a 15 minute break.
He will need a private area to rest
between appearances lasting longer
than 45 minutes.